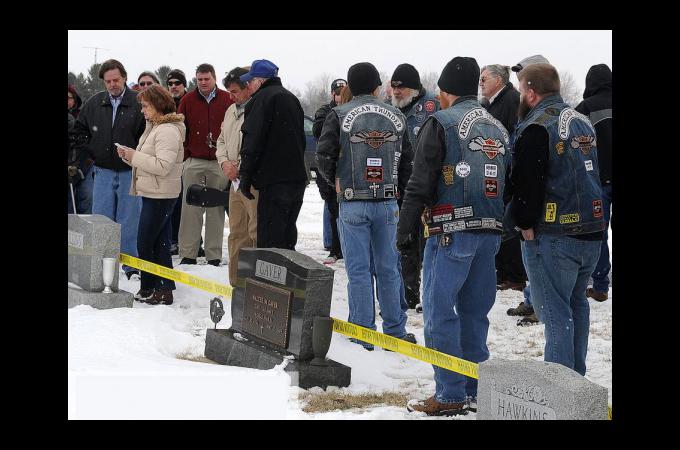 Billy Standley started planning to be buried astride his 1967 motorcycle about 18 years ago. His family carried out his wish Friday with a large Plexiglas casket.
As far back as his family can remember, Standley said he was going to be buried astride his Harley Davidson Electra Glide. They said the motorcycle helped him retain his sense of adventure after he settled down to raise four children in Mechanicsburg — quite a compromise for the man who made his start at the tender age of 13 as a ranch hand and rodeo rider.
"He was gruff, but his heart was as big as all outdoors," said his daughter, Dorothy Brown.
Standley began making the burial plans, because when he died, he didn't just want to ride to heaven, he wanted the whole world to see him do it in a see-through coffin. This required a lot of preparation, and even more gumption.
"He was a quirky man," Brown said. "But when it comes to us kids, he loved us, he raised us well and, of course, we wanted to help him."
He started by buying three extra burial plots at the Fairview Cemetery in Mutual, next to his wife, Lorna. The land was big enough for the 9x11' cement septic tank able to accommodate his bike. His sons, Pete and Roy, fashioned the casket out of Plexiglas, reinforcing the bottom with wood and steel rods to handle the extra weight. For five years, it sat in Standley's garage and "if you stopped by his house, he showed you his casket," Roy Standley said.
"He was proud of it," he added.
Enlisting the help of Dave and Tammy Vernon, co-owners of Vernon Funeral Homes Inc., he ensured his funeral would be held outside, so all his biker friends could watch his final ride.
"We've done personalization … but nothing this extreme," Tammy Vernon said. "He was the one who kept throwing this idea out there, to be buried on his bike. We were glad to assist him."
His forethought proved advantageous after Standley was diagnosed with Alzheimer's last year. Even as his mind wandered, his children or friends couldn't forget his final wishes. When Standley succumbed to lung cancer Sunday at the age of 82, his plan rolled into action.
Five embalmers prepared his body and secured him with a metal back brace and straps to ensure he'd never lose his seat on his beloved bike, even as it was towed by a trailer to his final resting place. The casket was assembled in the garage of Vernon's' funeral home in Mechanicsburg, enshrining him with his trophies and well-worn leathers. After the visitation in the parking lot, motorcyclists from across the country will join him on his final ride to Fairview Cemetery.
The burial will be bizarre, and a bit shocking, to those in Mechanicsburg spied the processional, his family agreed. But they also know it's only natural that Standley would want to make an entrance when he meets his maker.
"He'd done right by us all these years, and at least we could see he goes out the way he wanted to," Pete Standley said.