Blogs
Interview with Mom...Getting to Know Your Biggest Fan!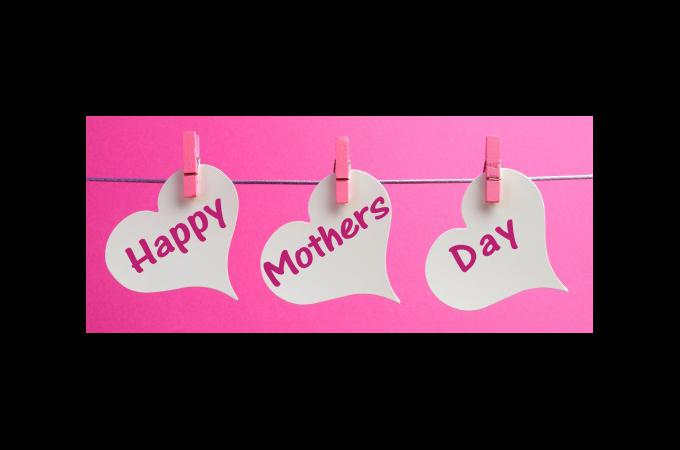 "Motherhood: All love begins and ends there." —Robert Browning
Growing up, mom was the first person who loved you and she always put you before herself. She was there for you through every accomplishment, every roadblock, and every milestone.
This weekend is Mother's Day and most of us will be spending some time with mom. This is the perfect opportunity to steal some time with your biggest fan, and ask her some questions about her childhood, her regrets, and her achievements.
Here are some suggestions to get you started!
What is your fondest memory from your childhood?
What kinds of things did you do when you were a kid?
What did you want to be when you were growing up?
When did you know that you wanted to become a mom? Were you nervous when you found out you were having your first child?
How did you feel when your children reached a milestone in their lives?
If you could visit one place, where would it be and who do you want to be there with you?
Who inspires you?
What Words of Wisdom do you have for your child(ren)?
What do you think makes a woman admirable?
What are you most afraid of?
What are the three happiest moments of your life?
How am I similar to you?
How am I different from you?
What else do you want to accomplish in your life? What is on your Bucket List?
Is there anyone that you would like to reconnect with from your past?
If you could change one thing about your life, what would that be?
Set up a FREE account with your mom and record your conversation with her!
Nelson Mandela Celebrated, Not Mourned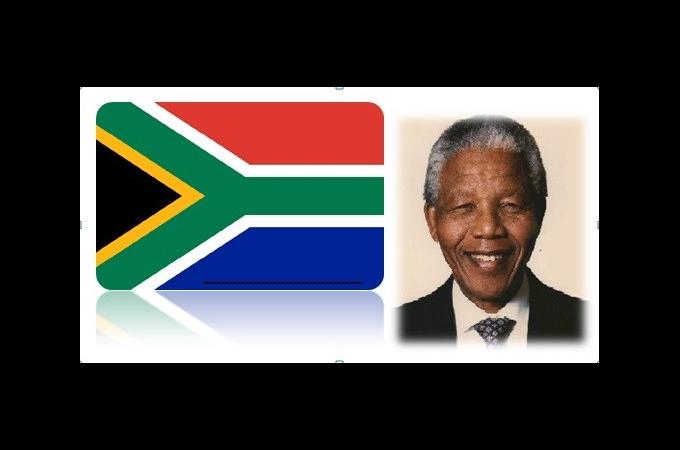 Not too long ago the world celebrated the life of Nelson Mandela. The entire world watched on national television a "Memorial Service" where dignitaries from all over the globe set aside their differences and gathered together to share stories, reflect, and honor a man who was not just an advocate of change and humanitarian, but also just a regular guy who loved his family and friends. The natives of Mandela's country were not sad nor were they moping — they were dancing, singing, chanting and full of smiles. They were not "mourning" they were "celebrating" or "paying tribute" to the life that he lived and his accomplishments made during his lifetime.
Truth be told, the world could learn one more lesson from Nelson Mandela — and that is not to mourn, but to celebrate, gather together and share the stories that heal the heart. The culture in the United States is not one of embracing death in a celebratory fashion. Norms for funerals in the states have been more ceremonial, ritualistic and very somber. The vast majority of our culture does not "celebrate," they mourn.
In my opinion, as a whole, we have turned into a death adverse society. We have accepted that death is a fact of life, but in a few very short decades we have become very reluctant to adhere to the previous funeral norms that our parents and grandparents adhered to. The baby boomer generation is once again changing the look and feel of a funeral, just like they did the school systems, cars, child birth, etc. 
There is no longer a cookie cutter approach to honoring one's life.
Traditional ritualistic venues are healing for many families — but what about the others?
Families may not end up dancing in the streets like they were for Mandela, but there is no harm in them choreographing their own dance with the guidance and assistance of a creative, capable funeral professional. What are your thoughts? I'd love for you to continue this dialogue with me!
Whose Responsibility Is It To Care for Our Aging Population?
Whose responsibility is it to take care of our aging population?  
It's no secret that in today's world people are living longer than ever before. In fact, in America alone 79 million baby boomers make up over one fourth of the population.  According to Pew Research each year for the next 18 years boomers will reach the age of 65.  Today, the average life expectancy has increased dramatically. Gallup polls show that the average age for women to live is age 81 while men are expected to live to the age of 76 or beyond.  The average retirement age for full time employment has migrated from 65 to 67. 
So what are the long term implications? If you look back on history, the boomer generation has completely changed the complexion of teen pop culture, young adult hood, and what middle age looks like. Boomers forced our educational system to rethink learning in the traditional classroom setting, changed the societal stigma of being divorced, challenging the court systems to rethink parental custody norms and even what spousal support looked like. Instead of assuming women would always receive "alimony" in a divorce scenario, "palimony" was awarded based on financially which spouse's income was determined to be "head of household".  The examples and the list can go on, but the unanswered question is staring us right in the face.
For years experts have predicted that our government's social security program was on jeopardy. Sure, more people have entered into the workforce and paid into social security, however with people living longer there are more people enrolling into the program than exiting it.  Yes, the government has made some adjustments in terms of when people can begin to collect their benefits; it will take years before the system feels the impact, if any.  Social Security is just one program that is at risk. What about Medicare or Medicaid?  Let's be clear Medicare is solely a "federal" program. Medicaid is a "joint state and federal" program.  What this means is each state operates its own Medicaid system, however the system must conform to federal guidelines in order for the state to receive matching grants or funding. These programs were put into place to assist people with health insurance and long term care in the final stage of their life. They were developed back in the days when the average life expectancy was in the late 60's early 70's.
 Medicare has had several revisions and will continue too. It's program has gotten so convoluted that the average person needs to seek out a well versed professional to guide them through what coverage they have, what supplemental policies they should purchase and how to work within the coverage rules of a hospital stay without being charged personally or released too soon, risking other related illnesses. 
Medicaid went from an option to help people who truly needed medical assistance,  to help bridge a gap in their life until they go back on their feet, to a an entitlement program where people live on the system their entire life. Somewhere over the years the program took an unexpected turn and went from "bridging the gap"  when people were in need to "providing assistance without accountability".  Translation, it became an entitlement benefit for all persons, not just those who contributed into the plan. This is the unspoken elephant in the room, especially for seniors approaching their end of life.
The government's position is that if you are an American, you are entitled to health care. That's just the way it is, so let's not discuss what's good or bad about it, let's accept it and look at the facts on how it plays into the financial implications of the future. What's alarming is that persons who have contributed to the system their entire life are literally having to go broke and die penniless in order to receive financial care while others who never have contributed into the system continue to be subsidized. Combine the two together and the outcome is a major Medicaid budgetary issue for many states. Studies show that over the past few years Medicaid on average takes up to 22% of each state's budget. What's the impact on the federal budget that must match each state? If there is already a strain on the system now – what is that going to look like going forward with the influx of boomers needing assistance?  
Now let's add insult to injury. The New York Times reported on November 27, 2012 that "Medicaid is the nation's largest health program in terms of number of recipients, serving 56 million to Medicare's 48 million – AND - According to the Congressional Budget Office, in the 2010 fiscal year, 77 percent of people enrolled in Medicaid were children and families, while 23 percent were elderly or disabled. But 64 percent of Medicaid spending was for older Americans and people with disabilities, while 36 percent went to children and families."
Bottom line – there is an entire generation of individuals who will be reaching the end stages of their life, who will need care in the final days of their life and most likely need financial assistance for their care.
What's the solution? In my humble opinion only, it's not a political one. I believe it's a cultural one. Other countries have financial issues, but many of them place far more value on the family unit than we do. In other countries it's not uncommon to have multiple generations living together under one roof. The elderly are respected and cared for. It's part of their culture's fabric. Finances aren't even taken into the equation; it's just the unspoken norm.  I personally think we can learn something here, what's your thought? I'd love for you to continue this dialogue with me!
Navigating the Elder Care Journey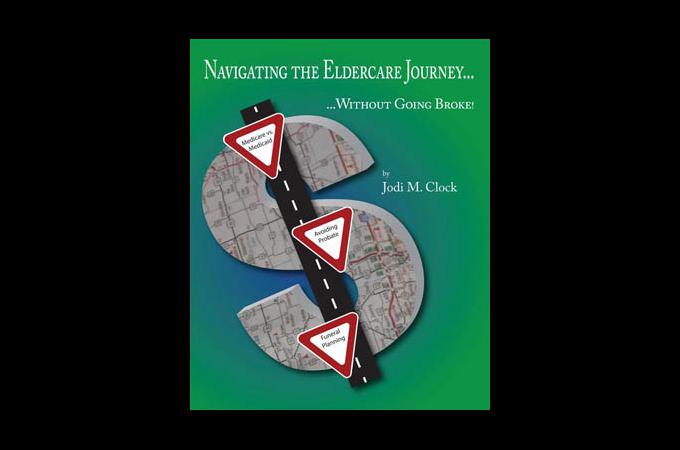 Ideas for how to handle your End-of-Life decisions without sending your finances into a tailspin.
Pennsylvania Man Buried Atop Motorcycle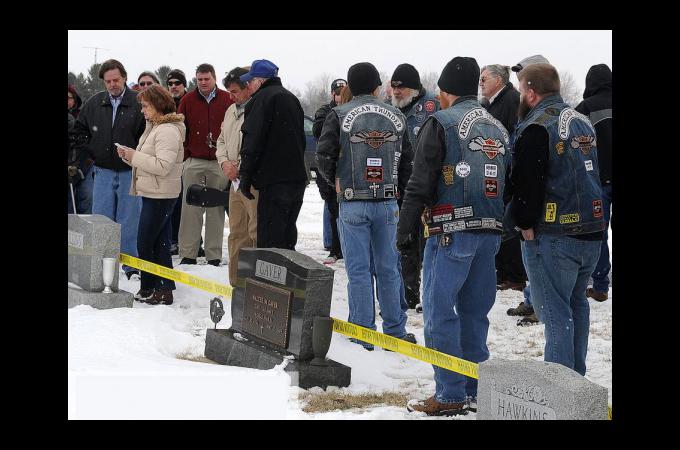 Billy Standley started planning to be buried astride his 1967 motorcycle about 18 years ago. His family carried out his wish Friday with a large Plexiglas casket.
As far back as his family can remember, Standley said he was going to be buried astride his Harley Davidson Electra Glide. They said the motorcycle helped him retain his sense of adventure after he settled down to raise four children in Mechanicsburg — quite a compromise for the man who made his start at the tender age of 13 as a ranch hand and rodeo rider.
"He was gruff, but his heart was as big as all outdoors," said his daughter, Dorothy Brown.
Standley began making the burial plans, because when he died, he didn't just want to ride to heaven, he wanted the whole world to see him do it in a see-through coffin. This required a lot of preparation, and even more gumption.
"He was a quirky man," Brown said. "But when it comes to us kids, he loved us, he raised us well and, of course, we wanted to help him."
He started by buying three extra burial plots at the Fairview Cemetery in Mutual, next to his wife, Lorna. The land was big enough for the 9x11' cement septic tank able to accommodate his bike. His sons, Pete and Roy, fashioned the casket out of Plexiglas, reinforcing the bottom with wood and steel rods to handle the extra weight. For five years, it sat in Standley's garage and "if you stopped by his house, he showed you his casket," Roy Standley said.
"He was proud of it," he added.
Enlisting the help of Dave and Tammy Vernon, co-owners of Vernon Funeral Homes Inc., he ensured his funeral would be held outside, so all his biker friends could watch his final ride.
"We've done personalization … but nothing this extreme," Tammy Vernon said. "He was the one who kept throwing this idea out there, to be buried on his bike. We were glad to assist him."
His forethought proved advantageous after Standley was diagnosed with Alzheimer's last year. Even as his mind wandered, his children or friends couldn't forget his final wishes. When Standley succumbed to lung cancer Sunday at the age of 82, his plan rolled into action.
Five embalmers prepared his body and secured him with a metal back brace and straps to ensure he'd never lose his seat on his beloved bike, even as it was towed by a trailer to his final resting place. The casket was assembled in the garage of Vernon's' funeral home in Mechanicsburg, enshrining him with his trophies and well-worn leathers. After the visitation in the parking lot, motorcyclists from across the country will join him on his final ride to Fairview Cemetery.
The burial will be bizarre, and a bit shocking, to those in Mechanicsburg spied the processional, his family agreed. But they also know it's only natural that Standley would want to make an entrance when he meets his maker.
"He'd done right by us all these years, and at least we could see he goes out the way he wanted to," Pete Standley said.
What to Do When a Loved One Dies
Regardless of how long we've had to 'say goodbye' — months or no time at all — a loved one's death can be an overwhelming shock. Yet suddenly, there's so much to be done!
First, did your loved one die at home or work? Call 911. Deaths occurring without attending medical personnel must be reported for police investigation. After a coroner's examination, depending on the circumstances, they'll transport the body to the funeral home of your choice or the morgue for an autopsy. If your loved one was under medical care, notify the doctor next (the name will be on prescription bottles and medical bills).  
Or did it happen in a hospital or care facility? Then staff usually initiates arrangements, contacting your chosen funeral home or, if necessary, arranging an autopsy. If your loved one was in a hospice program's care but died elsewhere, contact the administrators.
Next, the personal: notify family, friends and clergy. People will offer help. Consider accepting, to spread the news. Give them specific numbers to contact, so no one's overlooked. They feel better helping, and you're less burdened.
Now, the professional: contact a funeral director. Certainly, they arrange funerals, memorials and burial services but also much more: • transport the body • obtain the death certificate • arrange a casket, urn or grave marker • prepare the obituary • help you notify the deceased's employer, attorney, insurance company and banks. They can even offer grief support or direct you to other resources.
Did your loved one pre-plan with their funeral director? If not, ask friends and family for referrals or use Find a Funeral Home. Prices and services vary. Consult several funeral directors to be sure you're comfortable with your choice.
If your loved one worked, call the employer immediately. Ask about their benefits and any pay due, including vacation, sick time, disability income, etc. Are dependents still eligible for benefits through the company? Was there life insurance through the employer? If yes, who's the beneficiary and how do they claim benefits?
Contact the life insurance company. First, find your loved one's policy. Call the agent or company and ask how to file a claim. Usually beneficiaries (or, if minors, their guardians) must complete claim forms and related paperwork. You'll need to submit the death certificate and a claimant's statement. Ask about payment options. Can beneficiaries choose between receiving a lump sum or the having the money put in an interest-bearing checking account?
Notify Social Security and other organizations. If your loved one was covered, the spouse or dependents may be eligible for payments or benefits. Also contact any unions, professional or service organizations they belonged to. There may be life insurance or other benefits from these.
Gather important papers. Locate the will or trust, plus all other important papers, like deeds, business agreements, tax returns, bank accounts, earnings statements, birth and marriage certificates, military discharge papers, Social Security Number, vehicle registration, loan payment books, bills, and any other important papers pertaining to your loved one's affairs. You'll need all these to file a final tax return and settle the estate. Consider using an accountant.
Are you the will's executor?
As executor, you're responsible for carrying out final wishes from the will, paying creditors and balancing the estate. First, you'll need to file a probate case with the court. Sometimes, probate is complicated. Definitely consider an attorney, experienced in probate. (It could but needn't be the same lawyer who prepared the will.) Ask whether there's a probate time limit in your state.
Was there no will? That's called dying intestate. The court will appoint an administrator. Their responsibilities are like an executor's: distributing assets, paying creditors and balancing the estate.
Did you share the loved one's joint bank account? You should be able to conduct business as usual, depending on how it was opened. Otherwise, normally, only the executor or administrator can access an account after providing the required paperwork to the bank.
Later: try Be Remembered to ease other loved ones' experiences. Return soon to Be Remembered and see the many free services to help you pre-plan your Final Goodbye. Or become a Member now.